Brion Toss Yacht Riggers Catalog

Winter Holiday Specials and Shipping Information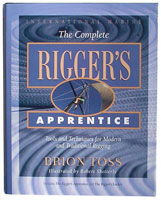 * PLEASE READ *
* SHIPPING NOTES *
- We ship UPS and US Mail.
The shipping program has a small brain - it will take your info and inform you the expected cost of shipping charges as if you want to be sent UPS. Just continue and when you see the option of making a "Customer Comment" - Step up and type us a note that you Don't want UPS - You want US Mail.
- Humans will read your order and ship as you direct.
We DO NOT charge your card at the point you send your order,
FIRST - we receive it, read it through, pack the color, size and types of tools you noted.
THEN we send the way you want it to go.
The shopping cart is easy to use but if you have a problem ... give us a call. 360.385.1080 IF WE ARE NOT IN - EMAIL PLEASE! catalog@briontoss.com is the BEST!
* SHIPPING CHOICES & COSTS *
US MAIL or UPS. Sorry - No Fed X
Happy to send your package US Mail. Handling charges are $2 to 10+$ more for US mail- depending on packaging needs. Why? Because we have to carry it up the hill, stand in line and we always insure your goods - unless you write us and say - "do not insure" - which makes shipping less expensive as it can go Parcel Post. Insurance through US Mail gets you a tracking number - however US Mail is not great at tracking lost items, and proof of mailing - to prove we actually handed the package to the post master... but they often damage or loose packages and we can not be responsible for lose of any items shipped without insurance.
UNITED STATES
... UPS to a street address - Anywhere
... U.S. Post to U.S. PO Boxes ... U.S. Post with your emailed ok
CANADA
...U.S. Express Mail International
...U.S. Priority Mail International
... U.S. Post with your emailed ok ...UPS anywhere Thanks Again!

INTERNATIONAL
...U.S. Express Mail International
...U.S. Priority Mail International
... U.S. Post to many countries with your emailed ok ...UPS anywhere

Thanks Again!
Fancy Work Trio
The Fancy Work Trio will take you from the basic knots into the more complicated. To get you started, this kit includes: Fancy Ropework Collection 3 in 1 dvd, Our Japanese Marlingspike One lb roll of tarred twine Makes a perfect gift for that creative hands- on person. Need not be a sailor to love this art!
$83.00
The Complete Rigger's Kit
- Save $$$ on many of the tools we consider essential in our shop. Each item has a complete description in the online catalog.
Our best selling kit contains:
Z-vise with hard case
Splicing Wand– your choice of X Small, Small, Medium or Large
4" or 6" Marlingspike
Rigger's Pliers
Rigging Tape
triple locking Carabineer
Tef-Gel Kit
Caliper Gauge
Point Hudson Phid – your choice of Small or Large
50power Lighted Microscope
Gear Keeper
Roll of Tarred Seine Twine
Please indicate sizes for the Splicing Wand, 4" or 6" Marling Spike, and Point Hudson Phid in the notes section of the order form.
This Special Collection of Rigging Tools $699 ($775 Value)
$699.00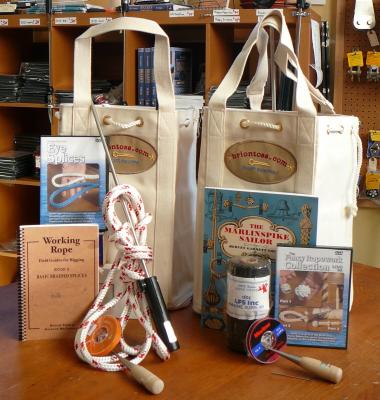 Riggers Bag
This is our beautiful and durable Rigger's Bag with our colorful and handsome Brion Toss Logo.
-weight Natural or BLACK canvas.
-many pockets inside - wide and narrow to slip tools into.
-adjustable straps to carry as a bag or backpack.
-zips open completely to lay on your work bench.
-also zips open to hang flat on your shop wall with all your tools at hand.
$169.00