Brion Toss Yacht Riggers Reviews
Best Rigger's Climbing Harness by Brion Toss!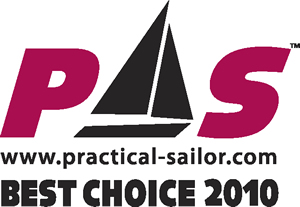 Practical Sailor Awards
Best Rigger's Climbing Harness by Brion Toss!
We are totally thrilled to have been chosen by Practical Sailor as the best Rigger's Harness in a recent review and onboard test. Here is the excerpt...
Brion Toss Bosun Harness
When you're a master rigger who has spent a good share of your working life above the spreaders, you have plenty of time to think about what you'd like in your perfect bosun chair. Brion Toss is a rigger based in Port Townsend, Washington, who has built a loyal following among sailors through his seminars, instructional videos, and unique rigging tools. He has been involved in some of the most challenging rigging projects on the water, as well as on land, such as earthquake-proofing the 7-ton chandelier in Washington State's capitol dome. The author of The Complete Rigger's Apprentice, he is probably the most familiar name in rigging among recreational sailors.
Toss makes two bosun harnesses, the regular bosun harness and the cruiser's. Both meet Occupational Safety and Health Administration (OSHA) standards and are based o na rescue harness designed by Ken Koerwitz. (The basic design is similar to the CMC Rescue Harness from California Mountain Company, which Toss recommends in his video, and sells for just $150, less than half the price of the Toss harnesses.)Toss's cruiser's harness uses all stainless-steel hardware, while the regular harness uses a high-grade cast alloy. In either case, you're getting the mother of all bosun harnesses. It has more extras than the average sailor needs, but the added features—such as multiple loop for tools and lanyard and redundant safety measures—reflect the insight of a conscientious and experienced rigger. These and other details will undoubtedly be appreciated over the life of the harness and during big projects.
Like the ATN, the Toss harnesses convert a climbing product—the rescue harness, in this case—for sailors. Because it is a harness, not a chair, it can be worn standing on deck or on mast climbing steps. A properly adjusted climbing harness won't allow the wearer to slip out, even when he is inverted.
Finally, a harness brings the wearer's hips right up to the top sheave, whereas a bosun's chair typically stops several inches lower. Climbing harnesses need to be worn snug, and the webbing nd hardware tend to pinch The "twig and berries" (a euphemism offered by one male tester) are particularly vulnerable for male users. The Toss harness, with its wide belt and oversized thigh supports, distributes body weight better than conventional climbing harnesses and, when snugged tight, was only slightly less comfortable than the testers' favorite chair. Although it took some time to master the buckle adjustments, once the harness was fitted, testers felt far more secure in the Toss harness than they did in any of the conventional chairs.
Feature-wise, the Toss harness is king of the crow's nest. It has a built-in tether with a locking carabiner to go around the mast to prevent swinging. The tether can also be used to temporarily attach to a fixed point aloft so that a halyard can be sent down for tools, etc. A spare carabiner is provided for self belay. The harness has three completely independent halyard attachment points; no other product in our test had more thanone. There are also two loops for hanging extra gear, and a large multi-pocke pouch—Toss's rigger's tool pouch—for cotter pins, small tools, tape, and other items. The chair also comes with Toss's informative DVD, "Going Aloft."
The harness is available in two sizes, for adults with 24- to 30-inch waists, and those with 28- to 42-inch waists .Because it is a true climbing harness, an experienced climber could combine it with a static line, ascenders, and aids to use it like the Topclimber, but it works just fine as a conventional halyard-supported chair.
Bottom line: The PS Best Choice. A well-engineered design, a variety of useful extras, and rugged construction put Toss's bosun harnesses in a class all their own. If you are cruising full time and don't have a dry place to keep your harness, then it would be worth paying extra for the cruising harness and the stainless hardware. Otherwise, the original version should provide years of trouble free service.
"Feature-wise, the Toss harness is king of the crow's nest..."
"Toss harness is heads and shoulders above the rest..."
"...Bottom line: The PS Best Choice.
--Practical Sailor June 2010
To read the complete 1st article go to: Practical Sailor June 2010 (PDF)
To read the complete 2nd article go to: Practical Sailor Best Gear of the Year (PDF)
To read the article go to Practical Sailor: http://www.practical-sailor.com/issues/36_6/features/Bosun-Chairs_5924-1.html
To buy a Brion Toss Bosun Harness go here >>